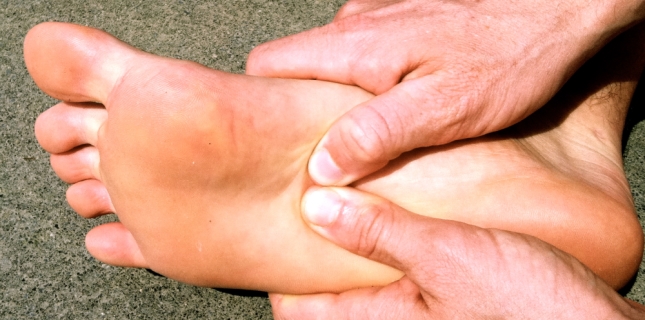 Overview
Plantar fasciitis is a painful condition causing heel pain and many people with the condition also have heel spurs. It affects the band of tissue (plantar fascia) that supports the middle part of the foot and runs along the sole of the foot from the heel to the ball of the foot. Usually the plantar fascia is strong and flexible but due to certain factors it can become irritated and inflamed where the plantar fascia joins the bone in the foot. Heel spurs occur when there's constant pulling of the fascia at the heel bone. This leads to a bony growth or spur. The symptoms of plantar fasciitis are pain in the arch of the foot or heel. This pain is usually worse in the morning after rest when the plantar fascia tightens and shortens. Heel spurs cause a stabbing pain at the bottom or front of the heel bone.
Causes
The most common cause of plantar fasciitis relates to faulty structure of the foot. For example, people who have problems with their arches, either overly flat feet or high-arched feet, are more prone to developing plantar fasciitis. Wearing non-supportive footwear on hard, flat surfaces puts abnormal strain on the plantar fascia and can also lead to plantar fasciitis. This is particularly evident when one's job requires long hours on the feet. Obesity may also contribute to plantar fasciitis.
Symptoms
The pain is more intense with your first steps out of bed in the morning or after sitting for a while. The reason for this is that during rest our muscles and ligaments tend to shorten and tighten up. The tightening of the plantar fascia means more traction on the ligament making the tissue even more sensitive. With sudden weight-bearing the tissue is being traumatised, resulting in a stabbing pain. After walking around for a while the ligament warms up, becomes a little bit more flexible and adapts itself, making the pain go way entirely or becoming more of a dull ache. However, after walking a long distance or standing for hours the pain will come back again. To prevent the sudden sharp pain in the morning or after sitting, it is important to give the feet a little warm-up first with some simple exercises. Also, any barefoot walking should be avoided, especially first thing in the morning, as this will damage to the plantar fascia tissue. Aparty from pain in the heel or symptoms may include a mild swelling under the heel. In addition, heel pain is often associated with tightness in the calf muscles. Tight calf muscles are a major contributing factor to Plantar Fasciitis.
Diagnosis
To diagnose plantar fasciitis, your doctor will physically examine your foot by testing your reflexes, balance, coordination, muscle strength, and muscle tone. Your doctor may also advise a magnetic resonance imaging (MRI) or X-ray to rule out other others sources of your pain, such as a pinched nerve, stress fracture, or bone spur.
Non Surgical Treatment
You may experience concern in reading about treatment options for this condition that involve taking medications, having injections or undergoing surgery. While these remedies may be necessary in some cases, there are natural, non-invasive, affordable methods for treating and healing Plantar Fasciitis. A simple, three-step approach may be all you need to experience immediate or rapid symptom relief. Step 1) Give Your Feet A Rest. When a ligament is stressed and inflamed, it is absolutely essential to take pressure off it and let it rest. Adjust your daily habits to spend some time each day off your feet. Step 2) Ice Brings Cooling Relief. Apply an ice bag or cold pack to your heel for twenty minutes, twice a day. This will numb soreness and help control inflammation. Step 3) Gain Support From Orthotics. Orthotics are devices designed to modify body motions or lessen pressure on areas of the body. In the case of foot orthotics, these products may include splints, wraps and shoe inserts.
Surgical Treatment
In unusual cases, surgical intervention is necessary for relief of pain. These should only be employed after non-surgical efforts have been used without relief. Generally, such surgical procedures may be completed on an outpatient basis in less than one hour, using local anesthesia or minimal sedation administrated by a trained anesthesiologist. In such cases, the surgeon may remove or release the injured and inflamed fascia, after a small incision is made in the heel. A surgical procedure may also be undertaken to remove bone spurs, sometimes as part of the same surgery addressing the damaged tissue. A cast may be used to immobilize the foot following surgery and crutches provided in order to allow greater mobility while keeping weight off the recovering foot during healing. After removal of the cast, several weeks of physical therapy can be used to speed recovery, reduce swelling and restore flexibility.
Prevention
You can help to prevent plantar fasciitis by maintaining a healthy weight, by warming up before participating in sports and by wearing shoes that support the arch and cushion the heel. In people who are prone to episodes of plantar fasciitis, exercises that stretch the heel cord (known as the Achilles tendon) and the plantar fascia may help to prevent plantar fasciitis from returning. Ice massage also can be used on the bottom of the foot after stressful athletic activities. It is possible that strict control of blood sugar will prevent plantar fasciitis in people with diabetes, although this has not been proven.